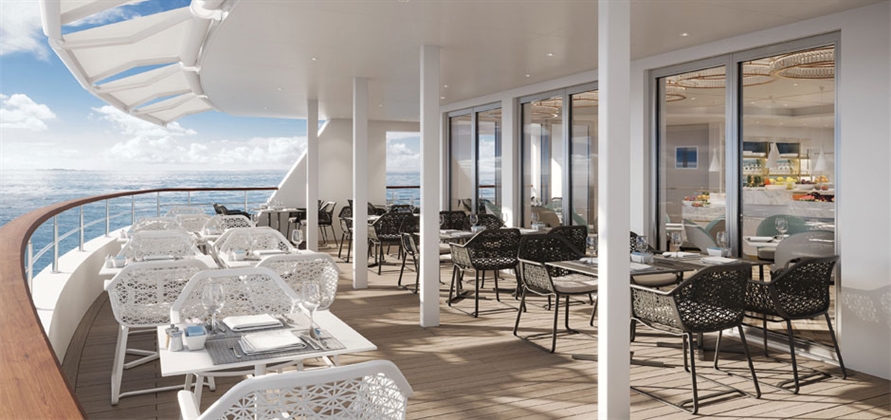 The aft Patio Café onboard National Geographic Islander II has been converted into a more expansive open-air restaurant
When Lindblad Expeditions decided to invest in bringing the former Crystal Cruises expedition yacht Crystal Esprit into its National Geographic fleet, it was already impressed with the comfortable and luxurious design of the ship. The 280-foot-long vessel, now renamed National Geographic Islander II, was originally designed by UK-based firm AD Associates, and Lindblad chose to bring back the company to update the vessel for year-round sailing around the Galapagos Islands. 
"We decided to hire AD Associates to keep all our updates in line with the current style, which we liked so much about the vessel originally," says Bruce Tschampel, vice president of operational and strategic services at Lindblad Expeditions. "Once the designs were made and agreed, we bid this out to four outfitters, and settled on using two, HF Interiors and Norisol, for the various projects. When the vessel got to Ecuador, we engaged some of our local contractors to put finishing touches to the vessel, including local textiles and artisans." 
Lindblad aimed to create an exclusive, luxurious experience for guests onboard the renovated ship, which will have capacity for just 48 guests in all-suite accommodation. 
"This expedition ship has the spirit and soul of a private yacht," says Tschampel. "There are so many features that I believe will make a big impression, as the ship has a high level of comfort and many outdoor locations to help guests enjoy the region. The outdoor spaces onboard will thrill our guests and be a real highlight, and our greater than 1:1 crew to guest ratio will help to deliver a very high-quality experience." 
Changes were aimed at adapting the ship to the varied guest experiences that Lindblad offers in the Galapagos. The main lounge, which could previously only accommodate up to 40 people, is to be updated with a new seating arrangement, beverage area, and communications and presentation system for hosting educational lectures. An area formerly used as a casino will be converted into a guest science hub for interactions with the expedition team, small gatherings, and a place for onboard scientists and researchers. 
Products from the region will be showcased in The Global Galley, a shop including work by several local artisans from the Galapagos as well as essential equipment guests might require. Guests can find local reference material in a new, fully appointed library, as well as plenty of other reading material. A large new marina room, meanwhile, provides space for guests to hang up their wetsuit and snorkel gear, as well as an area for cleaning equipment and relaxation after activities. 
Lindblad has also converted the aft Patio Café into a more expansive open-air restaurant which can accommodate all the ship's guests for outdoor dining. Tschampel highlights the space as the one he's most excited to see realised once the ship begins sailing.  
"When we looked at options for another vessel in Galapagos, this was always a feature we wanted to have, since we know how much our guests enjoy being outdoors," he says. "To be able to modernise this area and create this incredible space is very exciting – and I cannot wait to see our guests enjoying it." 
Guest satisfaction will be the main metric that Lindblad will use to judge the success of its revitalisation, but the cruise line is also prioritising the experience of its crew. 
"Success really revolves around the level of guest satisfaction and experience we can provide to our travellers as we provide the most immersive Galapagos experience," says Tschampel. "We also want to ensure a high level of job satisfaction working onboard and have made updates to the comfort of the crew cabins to ensure our crew have enhanced and enjoyable living quarters. We know this is very important to our crew satisfaction and overall guest experience."
This article was first published in the 2022 issue of Cruise & Ferry Interiors. All information was correct at the time of printing, but may since have changed.  
Subscribe to Cruise & Ferry Interiors for FREE here to get the next issue delivered directly to your inbox or your door.
Share this story