Looking for the perfect date night in Atlanta? Whether it's your first date, a much-needed date night (or day) for Mom and Dad or a group date to celebrate a birthday, engagement or promotion, we've got you covered. This ultimate list of date night ideas in Atlanta has a little bit of everything — from the truly special and romantic to traditional and even adventurous.
Date Night Ideas Filled with Romance
Make it a truly special and romantic date night or day with one of these ideas.
Have a Romantic Dinner for Two
Impress your date with a reservation at one of Atlanta's most romantic restaurants. Enjoy beautiful ambiance, tasty cuisine from a top chef and amazing skyline views at one of the best date night restaurants in Atlanta. Try global flavors at Atlanta's top International restaurants. Check out the Atlanta Restaurant Guide and find your next favorite meal by neighborhood or cuisine.
Go Wine Tasting
If you're looking for a romantic day trip, Château Élan Winery & Resort is located about an hour's drive from Atlanta. It offer tours and tastings by reservation.
Relax with a Couple's Massage
Enjoy several hours of together time, relaxing in the luxurious Magnolia Suite at The Waldorf Astoria Spa in Buckhead. Treat yourselves to a luxurious couples retreat, including an indulgent time for two — aromatic bath in a marble soaking tub, skin-softening body exfoliation and relaxing aromatherapy massage. Leave feeling and looking rejuvenated. Ahh!
Enjoy Sips Under the Sea
For a unique and romantic date night, attend Sips Under the Sea at Georgia Aquarium. The aquarium provides a stunning backdrop to a romantic evening of music, tapas and cocktails during Sips Under the Sea events. Be sure to pre-book as these events often sell out and tickets are not available at the door. Dining options are available for purchase in Café Aquaria. VIP guests receive three drink tickets. Menus differ at each event. 21 and older.
Go Ice Skating
From Thanksgiving through Valentine's Day, you can find several pop-up ice skating rinks throughout Atlanta, just right for gliding, hand in hand. Here's where to go ice skating in Atlanta.
Stroll Through the Garden
One of the city's most beloved natural attractions, Atlanta Botanical Garden, offers the perfect setting for a romantic date, day or night. Carnivorous plants, an edible garden, a massive display of orchids and the treetop-lined, 600-foot-long Kendeda Canopy Walk are just a few of the highlights. The stunning scenery makes it the perfect spot for a romantic stroll and picnic. Pack your own food or pick up something delicious at the Longleaf Restaurant on site. The garden also offers plenty of special events and classes making it a great spot for learning something new with someone you love.
Adventurous Date Night Ideas
For those looking for a little more action, we've got a few ideas for putting some adventure into your date night or day date. Grab your most sensible shoes, your best gal or guy and head out for a romantic adventure.
Go on a Romantic River Adventure
If you're the outdoorsy type, the Chattahoochee Nature Center is a good choice for a date. The center offers many adventures including canoeing (even by moonlight), outdoor movie nights, hiking and other fun events that are perfect for a first date or your 50th. For more ways to have fun on the 'hooch, here are 7 must-do Chattahoochee River adventures near Atlanta.
Bike or Stroll Along the Atlanta BeltLine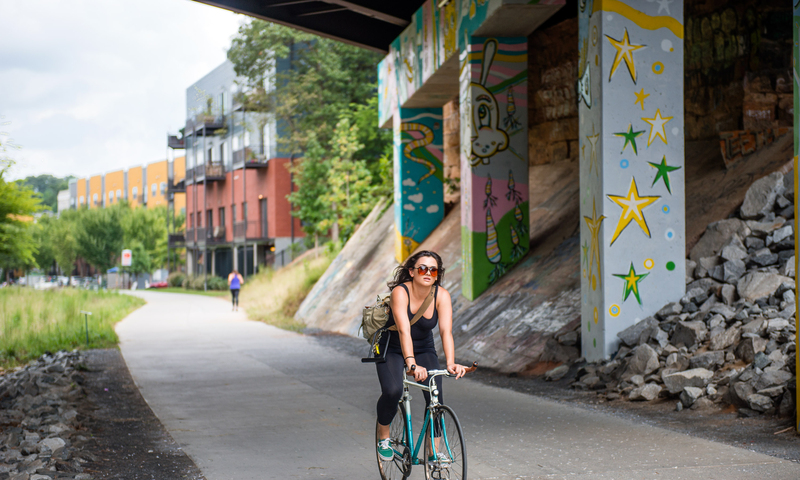 Spend some quality time together on a fun bicycle ride or leisurely stroll along the Atlanta BeltLine to see the street art. It's a great way to get outside, get some exercise and enjoy the fresh air. Both Krog Street Market and Ponce City Market are conveniently located right off the BeltLine and offer fun, delicious eateries and bars that are a great finale to your time spent outdoors.
Climb Stone Mountain
Stone Mountain offers incredible views and an amazing backdrop for a romantic picnic lunch. Hike to the top if you are up for a more physical adventure. Or enjoy the scenic gondola ride (additional cost) and a more leisurely walk.
Experience the Thrills of Driving a Porsche
Sign up for driving school at the Porsche Experience Center and get a program personalized for you. Learn the ins and outs of a Porsche and experience the thrill of taking it around the track. Finish up your adrenaline-filled date with coffee at the Carrera Cafe or enjoy a farm-to-table meal at Restaurant 365.
Learn How to Drive Like a Pro
For another adrenaline rush, check the schedule at Xtreme Xperience. Learn how to drive like a pro at one of the events or race the track in the exotic car of your dreams. Visit the website for upcoming event dates.
A Date Night Full of Fun and Games
If you and your date have a bit of a competitive streak, then you are sure to enjoy an evening filled with fun games, gourmet food and craft cocktails.
Upgrade your Putt-Putt Game at Puttshack
There's a new date night spot in Atlanta that's changing the game. Puttshack combines a tech-inspired game of minigolf, with world-class cuisine and crafted cocktails. Chill out at Atlanta's game bars and bowling alleys.
Race Head-to-Head on Go Karts
Head out for a night of fun and games at Andretti Indoor Karting and Games. You can race head-to-head on the go karts, bowl and enjoy numerous other games. Andretti also features a full-service bar and restaurant. Another plus? You get to wear comfy and casual date night outfits.
Go Duckpin Bowling on Atlanta's Westside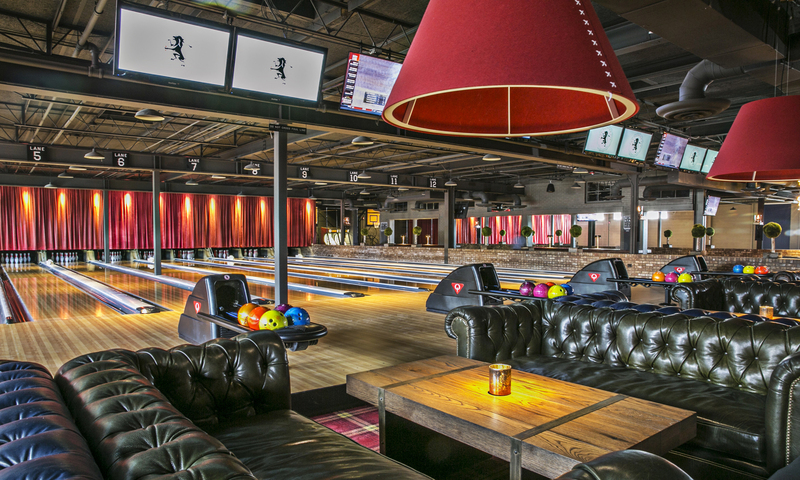 The Painted Pin and its sister restaurant, The Painted Duck, are noted Atlanta favorites and ideal choices for a fun date night. With gourmet cuisine and craft cocktails served alongside upscale games such as pin bowling, tabletop shuffleboard, bocce ball and more, you are sure to have a delicious and fun time out on the town.
Drink, Eat and Play on THE ROOF
Skyline Park, located on the roof at Ponce City Market, is a super fun spot for dates. Enjoy everything in the park, from its beer garden with breathtaking views, drinks and gourmet eats to the games, carnival eats and fun. Try your hand at a game of skill, enjoy a libation, slide down the Skyline Slide and, seasonally, "Skate the Sky" with rooftop ice skating. Dates at Skyline Park are sure to be memorable. It is also a great place for a group date night.
Day Date Ideas
A great date in Atlanta doesn't always have to happen at night. Here are some fun ways to enjoy quality time out on the town any time of day.
Begin with Brunch
If you're planning a day date in Atlanta, you've got to start with brunch. Choose a restaurant from one of the best brunch spots in Atlanta, by neighborhood. Located in Ponce City Market, the eclectic Atrium offers weekend brunch from 11 a.m. to 3 p.m. on Saturday and Sunday.
Tour Atlanta's Most Popular Tourist Attractions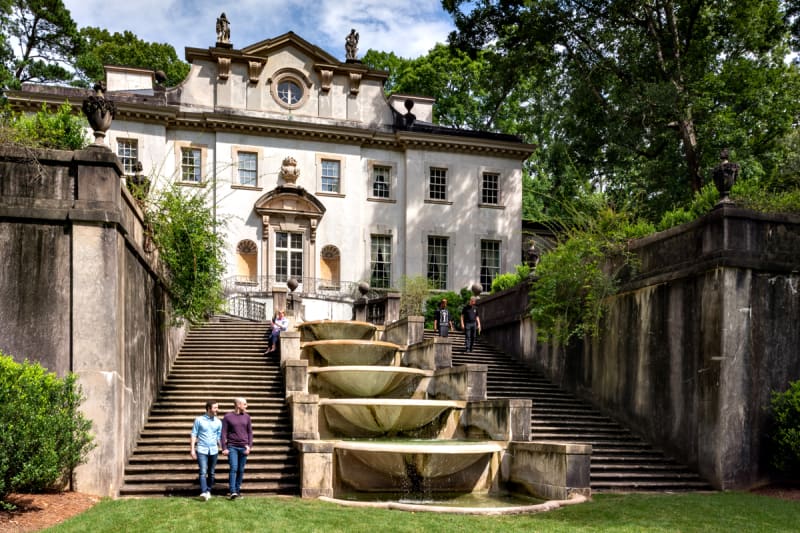 Located conveniently in downtown Atlanta, the National Center for Civil and Human Rights pays homage to the American civil rights movement and brings current global human rights issues to the forefront. Each of the three main exhibits features hands-on interactive displays.
Set on nearly 35 acres, the Martin Luther King, Jr. National Historical Park is made up of landmarks, modern-day monuments and facilities memorializing the history of the South during the civil rights movement and Dr. King's legacy. See his birth home and pay your respects at the final resting place for Dr. King and Mrs. King.
Historic Oakland Cemetery offers a variety of special tours. You might be especially interested in the Love Stories tour, which takes place in February and recounts the loves, lives and losses of Atlantans of days past. Tickets for special tours must be purchased in advance.
A self-guided tour of the Atlanta History Center and its 32-acre compound of historical buildings, museums and trails makes for a full day. The Swan House was one of the locations used in the filming of the "Hunger Games: Catching Fire."
Tour World of Coca-Cola to see artifacts and learn all about the history of one of the world's favorite beverages. The World of Coca-Cola gives you a glimpse of the bottling process, features a 4D movie experience and gives you the chance to sample Coke products from around the world.
Explore the City on a Bike Tour
Whether you're interested in Atlanta's incredible history or its new artistic future, there's a perfectly plotted bike tour that's ideal for anyone who wants to know more about the city. Bicycle Tours of Atlanta offers several bike tours around Atlanta including "Atlanta's Journey for Civil Rights." You'll visit the birthplace and burial site of Dr. Martin Luther King Jr., Ebenezer Baptist Church, Oakland Cemetery and more in a three-hour tour. Other themed bike tours include "Atlanta's Queer History Bicycle Tour" and "The Sustainability in Action Bike Tour." The "Fall in Love with Atlanta" tour will give you an opportunity to check out the Atlanta Beltline, Inman Park, Little Five Points, the Krog Street Tunnel, Jackson Street Bridge, Cabbagetown, The Old Fourth Ward, Oakland Cemetery and the King Historic District. The tour lasts 2.5 hours and includes a bicycle, helmet, bottled water and snacks. It's perfect for visitors or locals who want to get to know the city a little better. 
Want another option? ATL-Cruzers offers electric bikes for rent, and you can take guided tours of the city via bikes, electric cars or Segways.
Take a Self-Guided Walking Tour of Atlanta's Best Street Art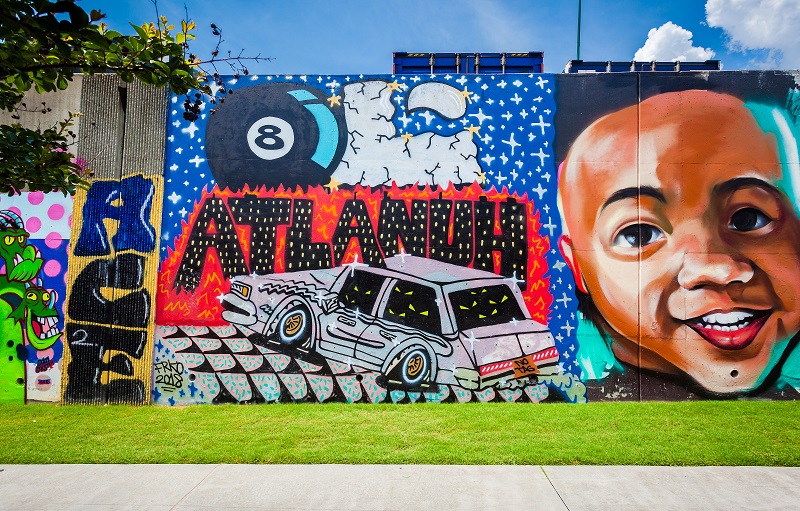 One of our favorite things about Atlanta is public art including murals, installations, graffiti and more. Take a walk and look around. Check out the city's largest gallery with the Living Walls tour of amazing works of art adorning walls all over the city.
Make a Splash in One of These Rooftop Pools
Experience a resort-style daycation without the travel. Atlanta boasts several rooftop pools that offer food and sips along with your dip.
An Artsy Twist to Date Night
Want to impress your sweetheart for date night? From art exhibits to live musical performances, here are a few ways to put an artsy twist on date night that is sure to impress.
Impress Your Date with Stunning Works of Art
The High Museum of Art is one of the most renowned in the Southeast. It houses more than 17,000 works of art in several galleries and hosts visiting exhibitions throughout the year. In addition, the museum offers workshops, classes and special events including Friday evening jazz, the annual Highball charity mixologist event, dinners, auctions, luncheons and more.
Enjoy Amazing Live Performances
The Atlanta Symphony Orchestra (ASO) offers something for everyone. The ASO performs in a variety of venues (indoors and out) making for some fun date options. From a movie-inspired concert such as "Star Wars" or "Prince" to a symphony under the stars, feel the triumphant emotion of classical music at awe-inspiring performances throughout the year.
Find Tiny Doors Hidden in Atlanta's Big Attractions
For a more unique way of taking in some of the city's art, see if you can find ATL's Tiny Doors that are hidden around town at some of Atlanta's biggest attractions. From the Fox Theatre and Georgia Aquarium to the Center for Puppetry Arts and more, these small passageways, built by Karen Anderson, have opened an even bigger door for Atlanta's art community.
Date Night Dinner and a Movie
Casual date nights at the movies are just the ticket. Here are some of our favorite Atlanta spots for catching dinner and a movie.
Watch a Movie Under the Stars
The nostalgia is palpable at Starlight Drive-In Theatre. Grab blankets, pack food or some treats and head out for a different type of movie night. You can even wear your jammies.
Dinner and a Movie All in One
Enjoy premium movie theaters and dinner all in one at Studio Movie Grill. Sit back in luxury, order your meal and watch your favorite blockbuster at one of Studio Movie Grill's state-of-the art theaters. There are three Atlanta-area locations.
Stream… What's Filmed in Atlanta
Netflix and chill. Literally. Kick back with a glass of wine and turn on a movie or your favorite show. Need suggestions? Check out one of the many Atlanta-set shows like, well, "Atlanta." Stream favorites filmed in Atlanta like "Ozark," "The Walking Dead" and "Stranger Things." Many top-rated Marvel movies were filmed in Atlanta as well, in addition to "The Hunger Games" and "Baby Driver."
Date Nights Ideas for Sports Lovers
Cheer on your favorite Atlanta sports team during a fun date night at home or at the stadium.
Sports lovers will not have to travel far as Atlanta is home to nonstop sports action all year long. Catch college or pro games live or in person at a fun destination.
Catch a Game at the Stadium
Catch an Atlanta Braves game in person or at one of the trendy bars or restaurants popping up around town. If NASCAR is more your speed, you might want to watch a race at Atlanta Motor Speedway. Are you ready for some football? See the Atlanta Falcons play at Mercedes-Benz Stadium. And for our soccer fans, Mercedes-Benz Stadium also is home to Major League Soccer team Atlanta United. A game is a great idea for a first date because there isn't constant pressure to always be coming up with new talking points. Plus, the people watching is terrific fun. Atlanta even has a new team to root for — Rugby ATL.
Watch the Game on the Big Screen
Watch sports on the big screen and party with friends one of Atlanta's sports bars, including Live! at The Battery. If you can't make one of the Atlanta United games in person, consider a fun pub for watching soccer in Atlanta. For sports fans looking for a place in downtown Atlanta to celebrate before or after the big game, here are some of the top bars and restaurants near Mercedes-Benz Stadium perfect for a celebration.
Free and Cheap Date Night Ideas
Planning a special date night in Atlanta with your sweetheart does not have to leave your wallet empty. Here are a few free and cheap date night ideas that are sure to please.
Have a Picnic at Piedmont Park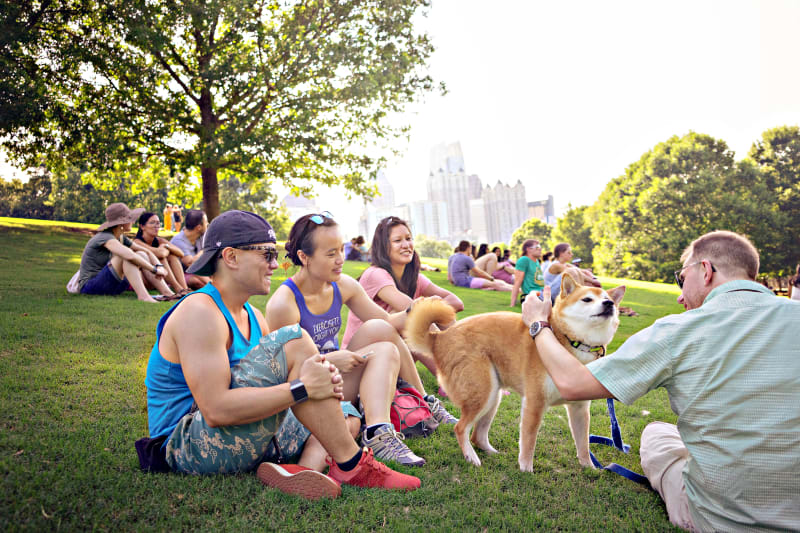 Piedmont Park is a beautiful (and free) spot to spend an afternoon date. Take your dog, your friends and enjoy a picnic. Take a walk and so much more. Piedmont Park is full of amenities and home to several annual festivals — explore to find your faves.
Sample Fresh Brews Straight Off the Tap
Over the last several years, several breweries have popped up around the ATL serving delicious craft beer. Is there any other kind worth consuming? And brews taste much better fresh from the tap at their own facilities. Most breweries offer free tours with the purchase of taste tickets. Try SweetWater Brewing Company,  Monday Night Garage or Second Self Beer Co. Take a fun brewery tour and get tastings. Check out the ultimate list of Atlanta bars, breweries, and local beers.
Play a Round of Disc Golf
The Atlanta area is loaded with disc golf courses. Perkerson Park, located along the Atlanta BeltLine, offers an incredible 18-hole disc golf course. The course is one of Atlanta's lengthiest, with plenty of challenges and nice scenery that guides players by a lake and through a wooded area. The 50-acre park also offers tennis and basketball courts, a playground with splash pad, ball fields and even some artwork.
Support the Arts with a Stroll Through Castleberry Hill
Get out and support the arts every second Friday of the month during the Castleberry Hill Art Stroll. The Castleberry Hill Historic Arts District is one of the top 10 art districts in the country. The tour is free. Afterward, stop off for a cup of coffee and glass of wine or a meal at one of the local spots.
Tour the Fire Museum
The Marietta Fire Museum offers a fun (and free) tour of fire memorabilia including vehicles, uniforms and more. The gift shop includes shirts, hats and other souvenir items. Take a self-guided tour or call ahead to schedule a guided tour for the most memorable experience.
See the Animals at Noah's Ark
Animal lovers will love the free one-mile walking tour of Noah's Ark Animal Sanctuary, where you can view a wide variety of animals. Pack a picnic lunch and stop by the gift shop for a souvenir.
Hit the Trails on a Hiking Adventure
There are miles of beautiful hiking trails in Georgia and many of them are an easy drive from the Atlanta area. An afternoon spent exploring the great outdoors is a great way to combine fitness, nature and quality time. Looking for where to go? Here are the 10 best easy hikes in the Atlanta Metro area.
Group Date Night Ideas
Good times are made better with good friends. Gather yours for some girl time, a night out with the guys or get a bunch of couples together for a fun group date. The more the merrier at these Atlanta date night locations.
Compete to See Who Can Escape First
Escape rooms have become popular in recent years. The Escape Game Atlanta, located in The Battery Atlanta, boasts an immersive, 60-minute adventure that plays out with Hollywood-style twists and turns. Themed rooms include Prison Break, Gold Rush, Special Ops and The Heist.
Sip and Paint your Own Masterpiece
Atlanta has no shortage of options for a creative date night. Check out Paint Nite and Plant Nite for fun options of painting canvases and glassware or succulent gardening. Get crafty and have fun with your date or a group of friends while enjoying cocktails and snacks. Get down and dirty with a date night at The Splatter Studio. This "Action Painting" studio allows you to slosh, splatter and flick paint on canvases releasing your inner artist. Leave with a unique piece of art and a memorable experience.
From romantic dinners and strolls along the BeltLine to carnival games and more, you will find plenty of fun and memorable things to do on your date night in Atlanta. If you're still stumped for that perfect idea to make your date night in Atlanta one to remember, check out the ultimate guide to the best nightlife spots for every occasion or browse our events calendar.